Bakery On Main Instant Oatmeal Gluten Free Maple Multigrain Muffin -- 6 Packets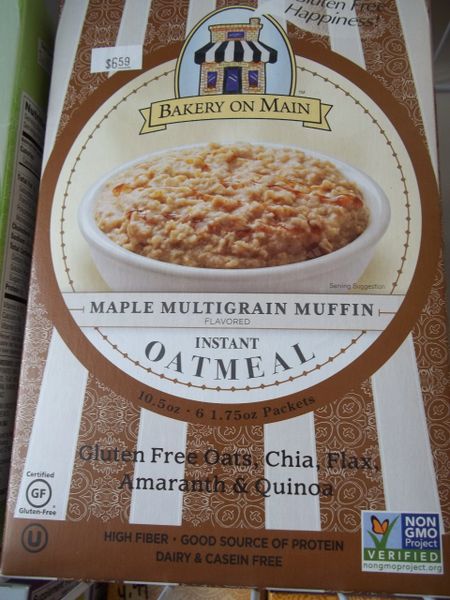 Bakery On Main Instant Oatmeal Gluten Free Maple Muffin Description
Made with Whole Grain Certified Gluten Free Oats, Chia Flax, Amaranth & Quinoa

High Fiber

Non GMO

Dairy & Casein Free

Low Sodium

Gluten and Wheat Free

Trans Fat Free

Cholesterol Free

Kosher
It all started in the small bakery of a natural foods market on Main Street in Glastonbury, Connecticut. Founder Michael Smulders listened to his Celiac customers complain about the taste of many of the gluten free options available to them. He thought that no one should have to suffer because of a food allergy or other special dietary need, and made it his mission to create products that were good for them but taste like they aren't. Late in 2003, after tasting a granola recipe one of the bakers was working on, Smulders said, these gluten free people need granola! He walked through the store and gathered ingredients and baked the first batch that day. It took almost 2 years to find gluten free sources of all the ingredients and find a place to make the product without risk of cross-contamination. Three years and two bakeries later, their gluten free granola and other premium gluten free products are made in a 34,000 square foot manufacturing facility with state of the art quality controls and in-house gluten testing on every batch. Located just a few miles down the road from the original bakery, the plant maintains the small bakery quality by continuing to bake in small batches.
We hope you love our products as much as we love creating them for you! - Michael Smulders. Made in America.
Free Of
Non-GMO, dairy, casein, gluten, wheat, trans fat, cholesterol.
Nutrition Facts
Serving Size: 50 g
Servings per Container: 6
Amount Per Serving
% Daily Value

Calories
200

Calories from Fat
30

Total Fat
3 g
50%

Saturated Fat
0.5 g
3%

Trans Fat
0 g

Polyunsaturated Fat
1.5 g

Monounsaturated Fat
1 g

Cholesterol
0 mg
0%

Sodium
40 mg
2%

Total Carbohydrates
36 g
12%

Dietary Fiber
5 g
18%

Soluble Fiber
3 g

Sugars
10 g

Protein
6 g

Vitamin A
0%

Vitamin C
0%

Calcium
4%

Iron
10%

Vitamin E
0%
Other Ingredients: Certified gluten free oats, evaporated cane juice, chia seeds, flax meal, quinoa, amaranth, natural flavors, sea salt.
Made in a facility that processes tree nuts and peanuts.
Reviews