Big Tree organic Coconut sugar Blonde 16 oz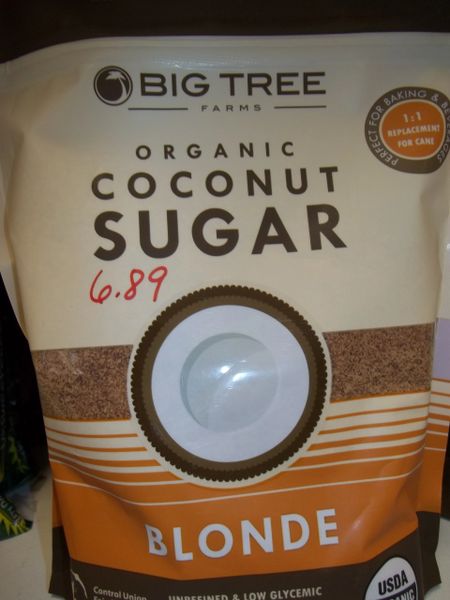 Big Tree Farms Organic Coconut Palm Sugar Blonde Description
Perfect For Baking & Beverages
1:1 Replacement For Cane
Unrefined & Low Glycemic
Certified Fair Trade
Non-GMO Project Verified
Kosher
Certified Vegan
Big Tree Farms coconut sugar is Nature's Perfect Sweetener. Unlike regular sugar, coconut sugar is low on the glycemic index, contains more nutrients and has 16 vital amino acids, making it a healthy indulgence you can feel good about. Use it like you would normally use sugar, it is a perfect 1:1 ratio. Because it is low glycemic, you won't get the "sugar crash" other sweeteners give you. It's a delicious, nutritious and easy to use replacement to cane sugar.
Naturally Nutrient Rich
Low Glycemic -Slow absorption of sugar into the bloodstream, means a happier and healthier body.
Amino Acids -Coconut sugar contains 16 vital amino acids, the building blocks for all life.
Potassium - Electrolytes help with muscular strength, cramps, diabetic maintenance and brain function
Calcium -Builds strong bones, reduces high blood pressure and kidney stones, and aids in weight management.
Magnesium - Regulates blood sugar levels and blood pressure. Helps prevent and manage hypertension, cardiovascular disease
Zinc - Called the "nutrient of intelligence" and is necessary for mental development.
Free Of
Gluten and GMOs
Supplement Facts
Serving Size: 5 g
Servings per Container: 91
Amount Per Serving
% Daily Value

Calories
20

Calories from Fat
1

Total Fat
0 g
0%

Saturated Fat
0 g
0%

Trans Fat
0 g
*

Cholesterol
0 mg
0%

Sodium
12 mg
0%

Total Carbohydrate
5 g
2%

Dietary Fiber
0 g
0%

Sugars
4 g
*

Protein
0 g
*
*Daily value not established.
Other Ingredients: Certified Organic Fair Trade granulated coconut flower blossom nectar.
Reviews