Coconut Secret Raw Coconut nectar 100% organic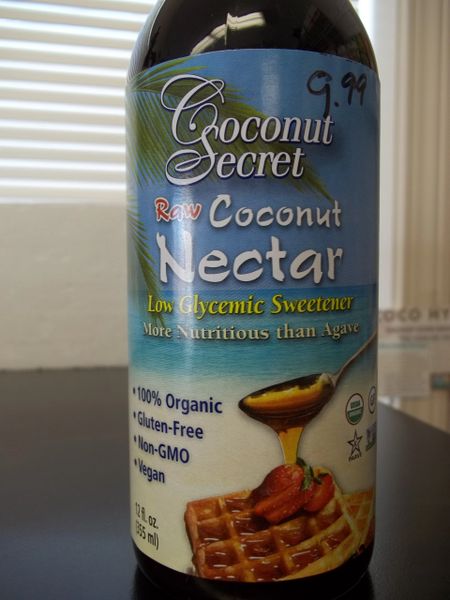 Coconut Secret Raw Coconut Nectar Description
Low Glycemic Sweetener

More Nutritious than Agave

100% Organic

Gluten-Free

GMO-Free

Fat-Free

Vegan
The Coconut Secret Story...
When both our parents suddenly became diabetic, my brother and I were deeply inspired to search the world for a pure, raw, truly delicious, low glycemic sweetener. We were rewarded and blessed beyond our expectations, in our discovery of the traditional sweetener made from the sap of the wondrous coconut tree. You are now holding in your hands, the fruits of our long journey. It is our joy to be able to share with you the gifts of these exceptional ingredients. Leslie and Randy
Health Secrets of Coconut Nectar
When the coconut tree is tapped it produces a nutrient-rich "sap" that exudes from the coconut blossoms. This sap is very low glycemic (GI of only 35), is an abundant source of minerals, 17 amino acids, vitamin C, broad-spectrum B vitamins, and has a nearly neutral pH.
Small batches ensure that our pure, low glycemic Nectar, made from this natural sap, is a raw, enzymatically alive product, minimally evaporated at low temperatures (only to remove excess moisture and allow sap to thicken), never exceeding an average summer day in the tropics. Some agave syrups are hydrolyzed at temps up to 140 degrees F. for 36 hours, the end product containing 90% fructose, compared to coconut sap which is only 0.5% glucose, 1.5% fructose, 16% sucrose, and 82% inulin.
Recipe Tips
The naturally sweet, mild flavor of our Nectar is an ideal sweetener for use on pancakes, over cereal, in tea and all your favorite dessert recipes! (Our delicious Coconut Nectar does not have a coconutty flavor.)
Free Of
Gluten, GMO, fat.
Nutrition Facts
Serving Size: 1 Tbsp. (15 mL)
Servings per Container: 24
Amount Per Serving
% Daily Value

Calories
55

Total Fat
0 g
0%

Trans Fat
0 g

Sodium
20 mg
1%

Total Carbohydrate
13 g
4%

Sugars
13 g

Protein
0 g
Not a significant source of calories from fat, saturated fat, cholesterol, dietary fiber, vitamin A, vitamin C, calcium and iron.
Other Ingredients: Organic coconut sap nectar.
Reviews