Dynamic Health Organic Aloe Vera Juice Orange & Mango 32 fl oz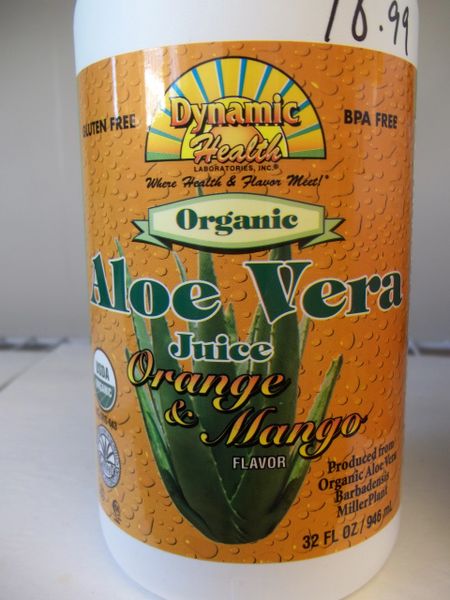 Dynamic Health Organic Aloe Vera Juice Orange Mango Description
Produced from the whole leaf of the Aloe Vera Barbadensis Miller
Natural Orange Mango Flavor
Dynamic health Laboratories, Inc. Aloe Vera Juice is cold processed from the whole leaf of Certified Organic Aloe Barbadensis Miller plants.
Dynamic Health Lavoratories, Inc. Aloe Vera Juice contains essential bioactive ingredients such as Mucopolysaccharides for which Aloe Vera is known. This pruduct is not pasteurized.

Our Aloe Vera Juice is natural source for: Vitamins, Amino Acids, Enzymes, Mineral & Tace Elements.
---
Directions
Our Certified Organic Aleo Vera Juice can be mixed with other juices, & served over ice as a refreshing smoothie.


Free Of
Artificial color, artificial sweeteners, sugar, aloin and aloe emodin.
Nutrition Facts
Serving Size: 4 oz
Servings per Container: 8
Amount Per Serving
% Daily Value

Calories
5
*

Calories from Fat 0
0
*

Total Fat
0 g
0%

Saturated Fat
0 g
0%

Cholesterol
0 mg
0%

Sodium
20 mg
1%

Total Carbohydrate
1 g
<1%

Dietary Fiber
0 g
0%

Sugars
0 g
*

Protein
1 g
*

Vitamin A
0%

Vitamin C
25%

Calcium
21%

Iron
47%
*Daily value not established.
Other Ingredients: Cerified organic aloe vera juice (99.7%) (International Certification Services, CA) Less than !% of the following natural, food grade sources: citric acid (oxidation inhibitor), potassium sorbate (modified inhibitor) and natural orange & natural mango flavors. Contains polysaccharides.
Reviews