Enjoy Life sun seed crunch bar Dairy free, nut free, soy free, gluten free.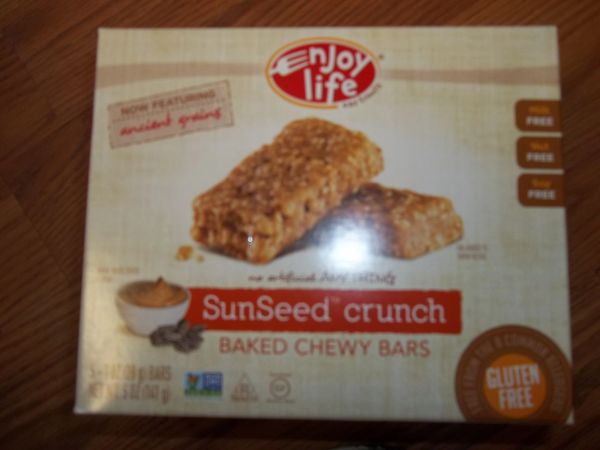 Enjoy Life Baked Chewy Bars Gluten Free Sunbutter® Crunch Description
SunButter Crunch

Improved Taste!

Dairy-Free • Nut Free • Soy Free
No Artificial Anything
Baked Chewy Bars
You can eat freely without sacrificing flavor! Our SunSeed Crunch snack bar is made with rich, creamy sunflower seed butter, satisfying that nutty flavor you're craving while being allergy-friendly.
At Enjoy Life, our whole business is making smile-good foods that keep people's insides happy. That's why all of our foods are specially made to be gluten-free and free of the 8 most common allergens. Our goal is to make delicious products that just about everyone can EAT FREELY. We promise they'll make you smile inside out!
-Scott Mandell and the Enjoy Life Team
Allergy-Friendly, Non-GMO, Gluten-Free, No Artificial Anything
Free Of
Gluten, wheat, dairy, peanuts, tree nuts, egg, soy, fish, shellfish, casein, potato, sesame and sulfites.
Disclaimer
These statements have not been evaluated by the FDA. These products are not intended to diagnose, treat, cure, or prevent any disease.
Nutrient Facts
Serving Size: 1 Bar (28 g)
Servings per Container: 5
Amount Per Serving
% Daily Value

Calories
120

Calories from Fat
35

Total Fat
4 g
6%

Saturated Fat
0 g
0%

Trans Fat
0 g

Cholesterol
0 mg
0%

Sodium
105 mg
4%

Total Carbohydrate
19 g
6%

Dietary Fiber
2 g
8%

Sugars
4 g

Protein
2 g

Vitamin A
0%

Vitamin C
0%

Calcium
2%

Iron
4%
Other Ingredients: Sunflower Seed Butter (Roasted Sunflower Kernel, Evaporated Cane Juice, Salt), Vegetable Glycerin, Tapioca Syrup, Rice Crisps (Rice Flour, Rice Bran, Raisin Juice Concentrate, Honey, Salt), White Rice Flour, Date Paste, Pre-Cooked Quinoa Flakes, Rice Starch, Evaporated Cane Juice, Puffed Amaranth, Light Buckwheat Flour, Brown Pure Cane Sugar, Millet Flour, Golden Flaxseed, Gum Arabic, Xanthan Gum, Salt, Vanilla, Baking Soda, Vitamins and Minerals (Vitamin B3, Vitamin B2, Vitamin B6, Vitamin B1, Folic Acid, Calcium). Vitamins and minerals: niacin (vitamin B3), riboflavin (vitamin B2), vitamin B6, thiamin (vitamin B1), folate.
Made in a dedicated nut and gluten-free bakery.