Meyers clean day hand soap lavender w/olive oil & aloe vera 12.5 fl oz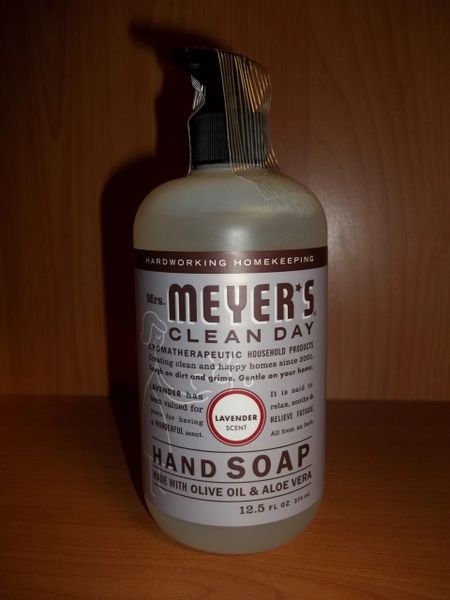 Mrs. Meyer's Clean Day® Liquid Hand Soap Lavender Description
Uncomplicated Product For a Clean and Happy Home
Lavender has been valued for its wonderfully relaxing scent that is soothing, so tranquilizing and is believed to relieve fatigue. What more could you want from an herb?
Aromatherapeutic Household Cleaners Mrs. Meyer's essential oils have naturally occurring, hard-working – yet gentle – Cleaning agents, and they provide a special, singular fragrance for your entire home.
---
Directions
Moisten your hands, then add soap. The longer you rub your hands, the cleaner they become.
Free Of
Animal testing and cruelty and gluten.
Disclaimer
These statements have not been evaluated by the FDA. These products are not intended to diagnose, treat, cure, or prevent any disease.
Ingredients: Deionized water, ammonium lauryl sulfate, sodium laureth sulfate, glycerin, lauramide dea, essential oils of lavender and orange, fragrance, cocamidopropyl betaine, aloe barbadensis gel, olive oil, isostearimidopropyl morpholine lactate, polyquaternium 7, sodium benzoate, potassium sorbate, tetrasodium edta, sodium chloride, citric acid