Nubian Heritage Bar Soap Raw Shea Butter with Soy Milk, Frankincense & Myrrh -- 5 oz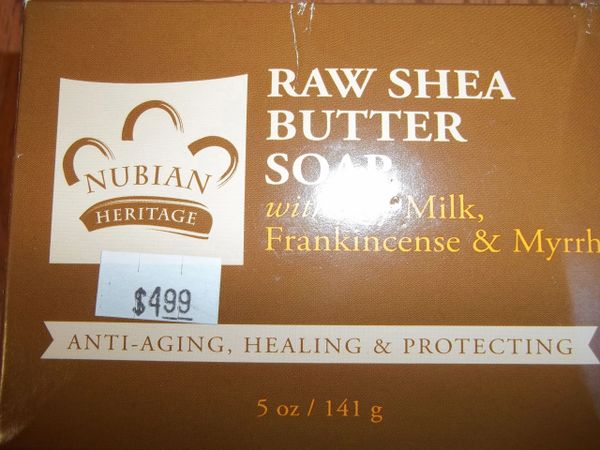 Nubian Heritage Bar Soap Raw Shea Butter with Soy Milk, Frankincense & Myrrh Description
Anti-Aging

Healing

Protecting

Cruelty Free
Heritage: Historical references to Shea Butter, a staple of African pharmacology, date back to the reported Shea Butter caravans of Cleopatra's Egypt. Shea Butter is enriched with essential fatty acids which moisturize and soften skin. Frankincense, known for its toning and anti-aging properties, also has aromatherapeutic benefits. Myrrh can be dated back to an Ebers papyrus (circa 1580 BC) recipe for a facial mask.
Our traditional Raw Shea Butter Soap is rich in essential vitamins and nourishing ingredients, including Vitamin E, soy milk and cocoa butter, infused with a special essential oil blend of Frankincense, Myrrh, Cardamom, Ginger and Black Pepper, which promotes an aromatic experience.
Nubian Heritage is the brainchild of two New York street vendors. In 1992, fresh out of college and without jobs, Rich and Nyema embarked on a mission to produce luxurious natural products from traditional African recipes with organic and fair trade ingredients. Today Nubian Heritage offers hundreds of culturally authentic natural products inspired by global ancient healing philosophies. Although Nubian Heritage products are no longer made in bath tubs, little else has changed; the company still makes its products itself, still uses fair trade and organic ingredients and still invests in community commerce.
---
Directions
Healing for all skin types including sensitive skin.
Ingredients: 100% Vegetable Soap: raw butyrospermum parkii (shea butter)*, theobroma cacao (cocoa) seed butter*, coconut oil*, and/or palm oil, soy milk, tocopherol (vitamin E), extracts of frankincense and myrrh, vegetable glycerin, essential oil blend, mineral pigment or vegetable color *Certified Organic Ingredient

Reviews