Six Star Pro Nutrition® Instant Protein Smoothie Mixed Berry -- 0.78 lbs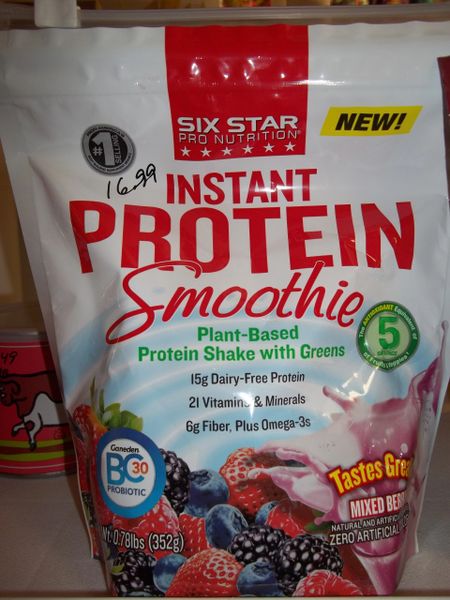 Six Star Pro Nutrition® Instant Protein Smoothie Mixed Berry Description
NEW!

Plant-Based Protein Shake with Greens

The Antioxidant Equivalent of 5 Servings of Fruits & Vegetables

15g Dairy-Free Protein

21 Vitamins & Minerals

6g Fiber, Plus Omega-3s

Tastes Great!

Natural and Artificial Flavors

ZERO Artificial Colors

Ganeden BC30 Probiotic
Why Six Star® Instant Protein Smoothie Is A Smart Choice. Six Star® Instant Protein Smoothie is made exclusively for you - the active person with a busy lifestyle.
Every serving delivers more of the antioxidant vitamin C than you'd find in a serving of apples, broccoli, oranges, spinach and blueberries combined (393% DV, 236mg). Plus it delivers 15g of vegetarian-based protein and 6g of dietary fiber. And with a total of 21 vitamins and minerals, additional probiotic cultures, omega-3 fatty acids (from flaxseed) and digestive enzymes, Six Star® Instant Protein Smoothie is perfect with breakfast, after your workout, or anytime you're looking for a boost of protein, nutrients, and energy! Plus, it's lactose free and vegan-based. So get more from your protein. Trust Six Star® Instant Protein Smoothie for the best formula, best taste, and best results!
Who Is Six Star® Instant Protein Smoothie For?
Active Men & Women • Fitness Enthusiasts • Vegetarians & Vegans
What Benefits Does it Provide?
15g of plant-based, dairy-free protein
Super-concentrated greens blend with broccoli, spinach & blueberry
The anitoxidant equivalent (vitamin C) of 5 servings of fruits & vegetables
21 vitamins & minerals
6g of fiber
Omega-3s
Ganeden BC30® probiotic cultures
Digestive enzymes
Zero lactose, aspartame, or cholesterol
Tastes great - with real fruit flavoring
Mixes easily in seconds for a nutritious smoothie any time of day
---
Directions
Suggested Use: Mix 1 scoop with 10 oz. of cold water, juice, or skim milk. Take at breakfast, after your workout, or at any other time of the day. Shake will before drinking. You can even customize your own shake by blending with frozen fruits, yogurt, or anything else you enjoy.
How to Make the Perfect Protein Smoothie:
SHAKE: Cover and shake until well mixed. -OR- BLEND: Add frozen fruits and yogurt
Note: Shake well. Product contains a non-dairy creamer that may clump and produce white spots. Mix vigorously.
Free Of
Dairy, artificial colors,
Disclaimer
These statements have not been evaluated by the FDA. These products are not intended to diagnose, treat, cure, or prevent any disease.
Supplement Facts
Serving Size: 1 Scoop (34 g)
Servings per Container: Approx. 11
Amount Per Serving
% Daily Value

Calories
120

Calories from Fat
20

Total Fat
2 g
3%

Saturated Fat
0 g
0%

Trans Fat
0 g

Cholesterol
0 mg
0%

Sodium
260 mg
10%

Potassium
65 mg
2%

Total Carbohydrate
11 g
4%

Dietary Fiber
6 g
24%

Sugars
1 g

Protein
15 g
30%

Vitamin A
25%

Vitamin C
500%

Vitamin D
20%

Vitamin E
20%

Vitamin K
20%

Thiamin
20%

Riboflavin
20%

Niacin
20%

Vitamin B6
20%

Folate
20%

Vitamin B12
20%

Biotin
20%

Pantothenic Acid
20%

Iron
190%

Calcium
2%

Zinc
20%

Iodine
20%

Copper
20%

Selenium
20%

Chromium
20%

Manganese
20%

Molybdenum
20%
Other Ingredients:
Premium Protein Blend
(pea protein powder, brown rice protein powder, alfalfa juice protein concentrate), maltodextrin, vegan creamer (coconut oil, maltodextrin, food starch, mono- and diglycerides, tricalcium phosphate), natural and artificial flavors, gum blend (cellulose gum, xanthan gum, carageenan), ascorbic acid.
Concentrated Veggie and Fruit Blend
(spinach powder, broccoli powder, blueberry powder), malic acid, silicon dioxide,
Vitamin and Mineral Blend
(calcium carbonate, sodium ascorbate, zinc amino acid chelate, iron sulfate, d-alpha tocopheryl acetate, vitamin A palmitate, potassium iodide, niacinamide, copper amino acid chelate, calcium d-pantothenate, manganese sulfate, vitamin D3 [cholecalciferol], biotin, pyridoxine hydrochloride, phytonadione, thiamin hydrochloride, riboflavin, sodium molybdate, sodium selenite, folic acid, cyanocobalamin, chromium chloride), red beet powder (color),
Digestive Enzyme Blend
(papain, amylase), potassium chloride, flaxseed powder, sucralose, acesulfame-potassium, bacillus coagulans GB131-6086.
Processed in a facility that also processes milk, egg, wheat, soy, fish, shellfish, peanut and tree nut ingredients.
Shake container before use.